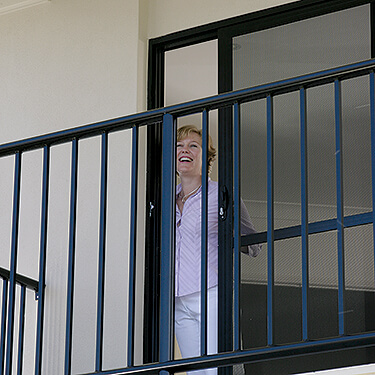 Safety Diamond Grilles – 5 Year Warranty
Suncoast Home Accessories offer two types of fly screens & fly doors. The standard option & the heavy duty option by Prowler Proof which is explained below.
Just like any other insect screen, a Prowler Proof insect screen is designed to keep small intruders out. That's where the similarities end. Like all other Prowler Proof products,
our insect screens are welded with robotic perfection. You'll enjoy the extra strength and the great look of the seamless corners every day. The insect gauze is high quality, long lasting fiberglass with small openings and great visibility. Sure to keep out small intruders for years to come.
Thanks to Prowler Proof's automated 7-stage powder coating process, our insect screens are available in 50 standard colours…with more than 250 further options if your favourite colour is not within our standard range.
click to download
full brochure

BLINDS, SECURITY SCREENS, AWNINGS & SHUTTERS

Request a FREE in home consultation for security screens, blinds, awnings & shutters. Servicing Caloundra, Kawana, Maroochydore, Buderim, Nambour, Coolum, Noosa & the entire Sunshine Coast & Hinterland areas