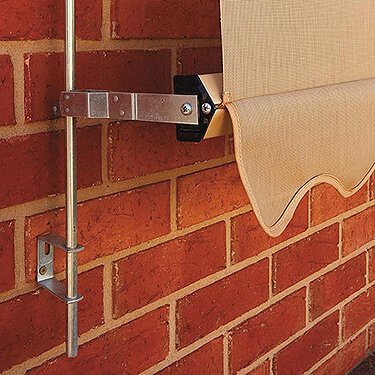 Auto Roll Up Guide Rod Awnings
Protect your home and cut down your cooling expenses with Australian-made Automatic Roll-up Fabric Awnings. Suncoast Home Accessories fabric awnings reduce the total heat load on and in your house, minimising the need for supplementary cooling. Your valuable carpets, curtains and furniture will be protected from direct or reflected sun damage. The close-fitting design of this versatile and attractive awning makes it an excellent choice for ground floor windows, offering the benefits of optimum privacy and sun protection. Easy function, self-locking arms enable simple shade adjustment, and when the sun goes down, the awning can be rolled away neatly into a head box.
Features & Benefits
Durable fabrics: Many of the fabrics we use are manufactured in Australia to suit local conditions. So durable, they'll look great for many years.
Extensive range of styles & designs: We have an Automatic Roll-up Fabric Awning to suit a variety of situations and house designs.
Technically superior materials: We make our awnings from components that have been engineered to last in Australia's harsh conditions. Optional Stainless Steel
self-locking arms and guide rails are available for seaside locations.
Metal headbox: The optional colour coordinated headbox provides complete protection for your Automatic Roll-up Fabric Awning when retracted.
Control: User friendly self-locking arms allow for flexible height settings with easy adjustment by hand or by a pull stick.

BLINDS, SECURITY SCREENS, AWNINGS & SHUTTERS