Suncoast Home Accessories Drop-Arm Fabric Awnings are an ideal solution for shading any type of window. Drop-Arm Awning arms pivot in an arc, extending and retracting the fabric skin providing protection for your windows. The benefits come from the larger area between the awning and the window, enabling greater air circulation. Drop-Arm Awnings are ideal for wind-out and casement windows.
Elegant Drop-Arm Fabric Awnings are an excellent solution to reducing the total heat load to your home, resulting in more comfortable temperatures during the day whilst protecting your valuable carpet and furnishings from the fading effects of ultraviolet rays.
Also available is the Robusta Balcony Awning. The arms on the Robusta Balcony Awning can be locked at various positions on the slide rails allowing the awning to extend horizontally (like a Folding Arm Awning) or extend almost vertically. This versatile awning can be used over verandahs, patios or doorways.
Features & Benefits
Durable fabrics: Many of the fabrics we use are manufactured in Australia to suit local conditions. Choose from sunscreen, acrylic or canvas fabrics knowing they will look great for many years.
Technically superior materials: We make our Drop-Arm Fabric Awnings from components that have been engineered to last in Australia's harsh conditions.
Choice of controls: Choose from spring-loaded arms, internal cord-lock, winch or motor controls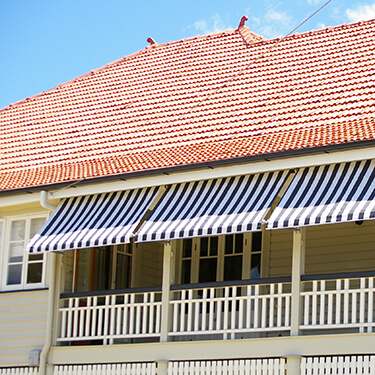 BLINDS, SECURITY SCREENS, AWNINGS & SHUTTERS