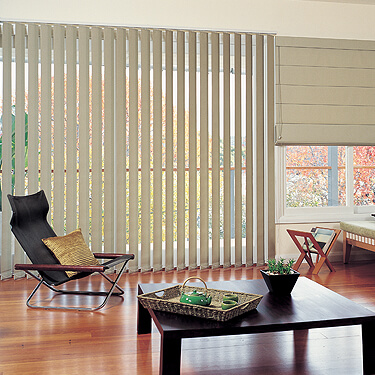 Suncoast Home Accessories Vertical Drapes are easily the most practical blind on the market, suited to most windows and door openings. Highly adaptable, they can be used in casual or formal areas.
Vertical Drapes come with simple, easy-to-use controls that rotate the slats through 180° giving absolute control over the light and the desired level of privacy.
Manufactured to exacting quality standards, Vertical Drapes are carefully crafted with the finest materials to ensure a long, trouble-free life.
With a choice from hundreds of decorator colours, patterns, plains, translucent or
blockout fabrics, we offer you a varied choice to complement any décor.
Features & Benefits
Durable fabrics: Many of the fabrics we use are manufactured in Australia to suit local conditions. You can have confidence knowing they will look great in your home for many years.
Pelmet: Choose from a simple fabric insert in the front of the track to keep your
room casual, or dress it up with a more formal pelmet to conceal the track.
Bottom weights: We offer you a choice of weights with or without link chain.
Removable blades: You can change the colours of your blades to give your home
a new look simply and easily, whenever the mood takes you.


BLINDS, SECURITY SCREENS, AWNINGS & SHUTTERS